I have sensitive skin, and it has been a struggle for me to find skincare products that do not irritate it. Specifically, since the end of high school, I have been unable to wear most make up because it makes my eyes very dry and irritated. Over the years, I have searched for cosmetics that don't only promise to work for people with sensitive skin but also deliver on that promise. I figured I would share which products I have found to work for me in the hopes that this blog post would help others with sensitive skin find the skincare items that work for them.
I start my day off with a facial cleanser. One that I've particularly enjoyed using is the Boo Bamboo Nourishing Skin-Balancing Face Wash. I find that this facial cleanser is perfect for my skin because it cleans my face and gets rid of all of my excess oil while also not irritating it. I've had irritation issues in the past with cleansers that had salicylic acid in them, so I made sure that this one didn't have it. Boo Bamboo is also a company that uses mostly organic and natural ingredients, which definitely appeals to me.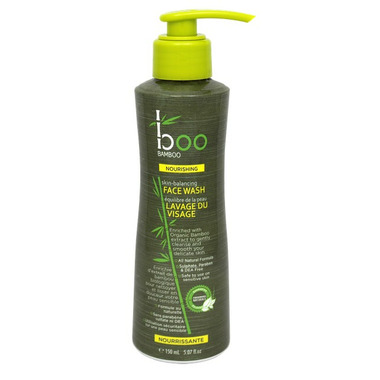 After my facial cleanser, I apply the Chia Seed Hydrating Toner from The Face Shop. If you have sensitive skin, you really have to be careful with what you purchase from The Face Shop because there are several products that have caused my skin to break out. This toner, however, is not one of them. The entire Chia Seed line has done wonders for my skin. This tone has really evened out my skin tone and softened my skin. It has also not irritated my skin, so I highly recommend it.
Next, I apply The Face Shop's Chia Seed Moisture Recharge Serum to my face as a moisturizer. This is the other product from The Face Shop that I love. I've tried other Chia Seed moisturizers, but I found them to make my skin look too oily. However, this product is perfect because it sinks into my skin very well and doesn't leave any oily residue. I actually prefer it over the Chia Seed No Shine Intense Hydrating cream because I find that it gives my skin even less shine.
After using my Chia Seed moisturizer, I apply the Liquid Gold Triple Benefit Tinted Moisturizing Day Cream SPF30 by Anna Lotan. This product was actually recommended to me by my dermatologist for its triple benefits. It not only moisturizes the skin, but it also acts as both a foundation and a sunscreen. Not everybody knows just how important it is to wear sunscreen every time you leave the house (yes, even in the winter). Wearing sunscreen allows your skin to avoid sun damage and reduces the appearance of wrinkles in the present and in the future. The one downside to this product is that it is only one tone, which luckily works for my skin but won't work for others. Nevertheless, this product does not irritate my skin, and I think that it is brilliant.
After I use my triple benefit cream, I apply Powdered Sunshine from Lush. This product is perfect for my skin because it gives my skin a matte appearance while also acting as another layer of both sunscreen and foundation. The one major downside to this product, however, is that Lush doesn't sell it in North America. That's right – I had to go all the way to Europe to get it. It is possible to ship it to Canada or the US from England, but you're looking at some pretty scary shipping fees. The good thing about this product, however, is that it can last longer than most of Lush's other products because it is in powder form. Its ingredients are also natural and cruelty free so you can enjoy it without feeling any guilt. Too bad it doesn't come in several colours to suit all skin tones.
When it comes to makeup, I have to admit that I don't wear it too often. This is mainly because of my eyes' sensitivity to almost all cosmetic products. However, when I want to look just a little more fancy than usual, I apply the Eyes Right Mascara from Lush. While my eyes still do get a bit dry and irritated from this product, it is the only one that my eyes can still tolerate. I also apply my favourite eyeshadow, which is Lush's Sophisticated Liquid Eyeshadow. I have yet to try out any other colours, but I love the taupe colour of the Sophisticated one on my eyes.
Then, I put on either a lip balm or a lip tint, depending on my mood.
My go-to lip balm is any Burt's Bees one, but I especially love the Pink Grapefruit one.
Burt's Bees also has a tinted lip balm line and a lip shimmer line. I personally like the lip shimmer line better because its colours are much brighter and shinier than the tinted lip balm line. I was actually disappointed with the tinted lip balms because the colour barely showed up on my lips when I put it on.
If I want a much more intense colour, I usually go with one of Lush's lip tints. Within the Christmas collection, there are two great lip tints: Santa Baby is the bright red one while Sugar Plum Fairy has more of a purple hue. The Lush lip tints that are available all year round in North American include the hot pink Strawberry Bombshell and the nude Sunkissed lip tint.
My nighttime routine includes the same face wash (Boo Bamboo), but I also use a face mask to unwind. I usually use The Face Shop's Real Nature Face Masks, but I also love Lush's Rosie Cheeks face mask. The Face Shop has a wide variety of face masks that all have different functions, and some of my favourites include the Kelp, Mung Bean, and Green Tea face masks. I also use the Chia Seed Hydrating Toner again before putting on my moisturizer. I then apply the Smuggler's Soul Multipurpose Cream from Lush, which was available as part of last year's Father's Day collection. I love it because it smells like Sandalwood and sinks into my skin quite well. As a multipurpose cream, it has many other uses, but I like to use it as a nighttime moisturizer for my face.